When thinking about agriculture, most of us will think about food. But clothing made from natural fibers such as wool and tencel, is in fact just as much an agricultural product as the veggies on your plate - just in a different form. So we got curious: Could we turn our worn-out garments into a delicious meal? Turns out, the answer is yes.
The Activist Tee
The perfect versatile t-shirt in soft, comfortable and quick drying merino wool and Tencel. Use it as layering on cold days in the slopes or as a casual fitted t-shirt as you are sipping ice coffee on warm summer days.
Warning: These products may contain traces of vital nutrients for body, mind and planet.
How we turn base layers into a fine dining experience
Like good quality food, good quality clothing contains no additives, no harmful colouring agents and no chemicals. All Houdini's baselayers are made with 100% natural materials: In their original state, these materials are completely biodegradable. This is why we keep our garments as pure as possible, without any unnecessary additions. To be able to see exactly how pure that is, we collaborated with the biodynamic gardens of Rosendal to open a testing lab for our natural garments: A compost for worn-out sportswear.
By growing vegetables from worn out base layers, we want to showcase how beautiful it is to close the loop.
Can you eat old sportswear?
Part of our mission to have a 100% circular collection by 2022, fully eliminating the concept of waste. With the Houdini Menu project in 2016, we took a big step in visualising what exactly that could like. We let our wool base layers go through a normal garden composting process. The soil was then used to grow vegetables that ended up on the plates in a gourmet restaurant. The goal was to show the beauty of circular design and to test if our clothes would actually decompose and leave nothing but healthy soil. Up until this day, we are working with the lovely people at Rosendals Garden to continue learning how we can create products that can contribute to the earth, rather than take from it.
Read more about the Houdini Menu.
Garments made in 100% natural materials
Our wool collection consists of everything from base layers to mountaineering shells.
Merino wool: A fiber with magical qualities
Merino wool is a fantastic material with anti odor and moisture wicking qualities. Wool regulates the temperature after your body and is therefore perfect for different activities, from climbing or hiking in the summer to skiing in the winter. Explore our range of wool products, including t-shirts, thicker sweaters and our innovative new wool shell jacket and pants. Our wool is not mixed with any synthetics, for performance reasons, but also to achieve a completely circular product.
Thanks to the natural fat in wool, lanolin, Lana Jacket becomes water resistant without adding any chemicals.
Tencel: Wear the forest
Tencel is a sleek and strong fiber made from cellulose, a natural compound that build up plants and trees. Tencel provides a cool feeling against the skin and is highly breathable. It can also take up moisture very well. At Houdini, we use several blends of Tencel and merino wool. It gives the wool a nice drape, add texture and acts as reinforcement is some material constructions. Tencel is produced in a very sustainable way, using fast growing FSC certified trees. The chemicals and water used in the production can be reused and circle back to a rate of over 99%. Tencel is produced in Lenzing, Austria and marked with the EU Ecolabel.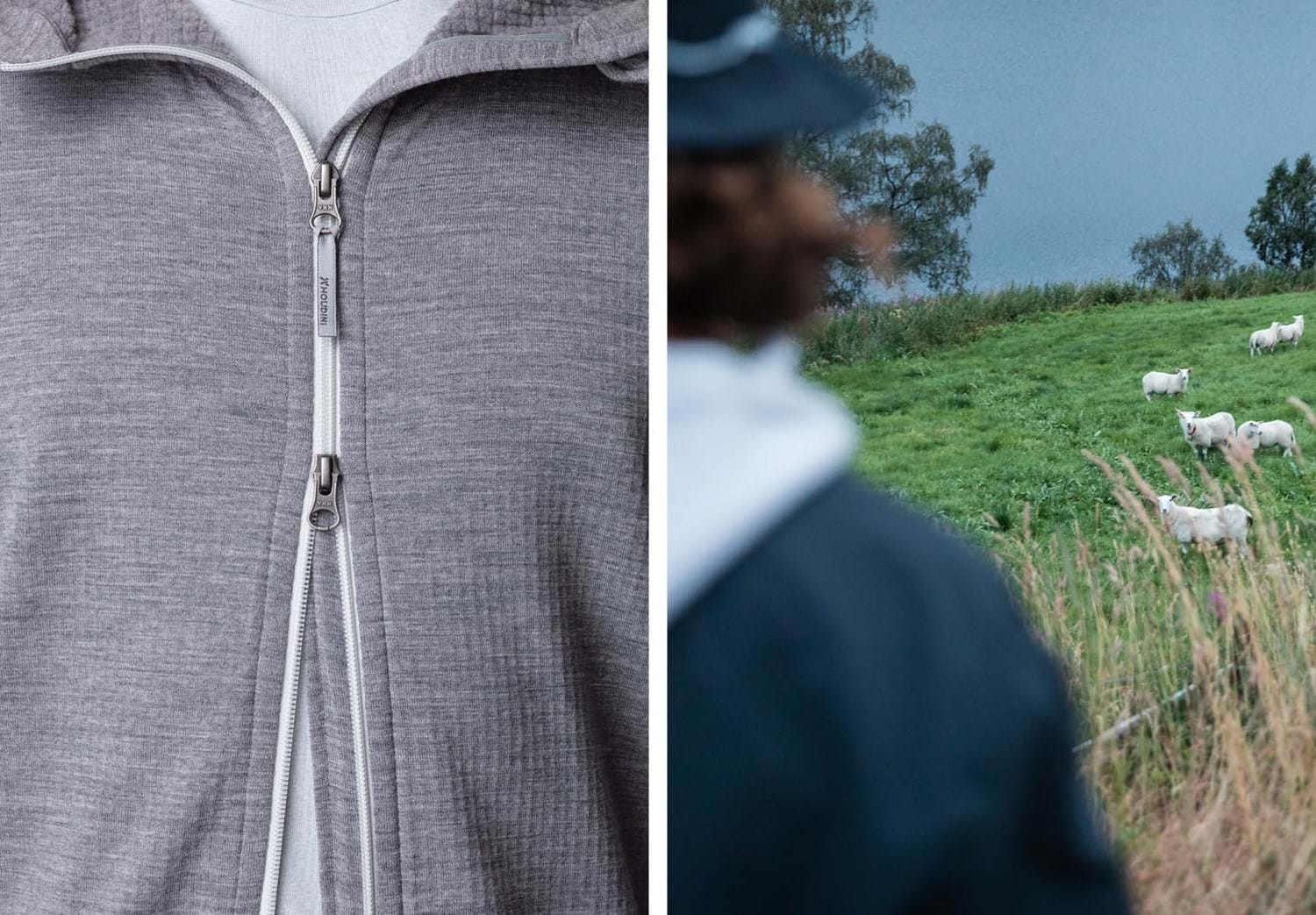 Keen to get composting?
Natural fibers can return to nature as long as they are not blended with synthetics or treated with hazardous chemicals. All our garments in natural fibers can be composted, as long as you cut away the details like zippers, cords etc. If you have a good compost at home, a shredded up wool garment usually decomposes in 6-12 months. That being said, you can always return your worn out Houdini garments to us. The textiles can often be repurposed before they are ready to go back to the soil. Wool can also be recycled, but with degrading quality with each recycling, similar to paper.
Natural fibers can return to nature as long as they are not blended or treated with synthetics or treated with hazardous chemicals.