For European skiers, British Columbia is known as the tree skiing heaven on earth with enormous amounts of snow and perfectly spaced out trees. In the northern part of the province on the other hand, thick forests cover the lower slopes of most mountains, making it barely skiable unless you are a true expert and knows the terrain well. That was one of the major things to deal with once Hankin Evelyn got built almost 10 years ago.
After environmental assessment and securing funding from the B.C. government, Hall reemployed forestry workers to build warming huts with wood burning stoves and outhouses as well as 13 cut ski runs in the forest below Hankin Mountain. They also put up maps, signs, permanent a check point for avalanche transceivers and a parking lot at the end of the road.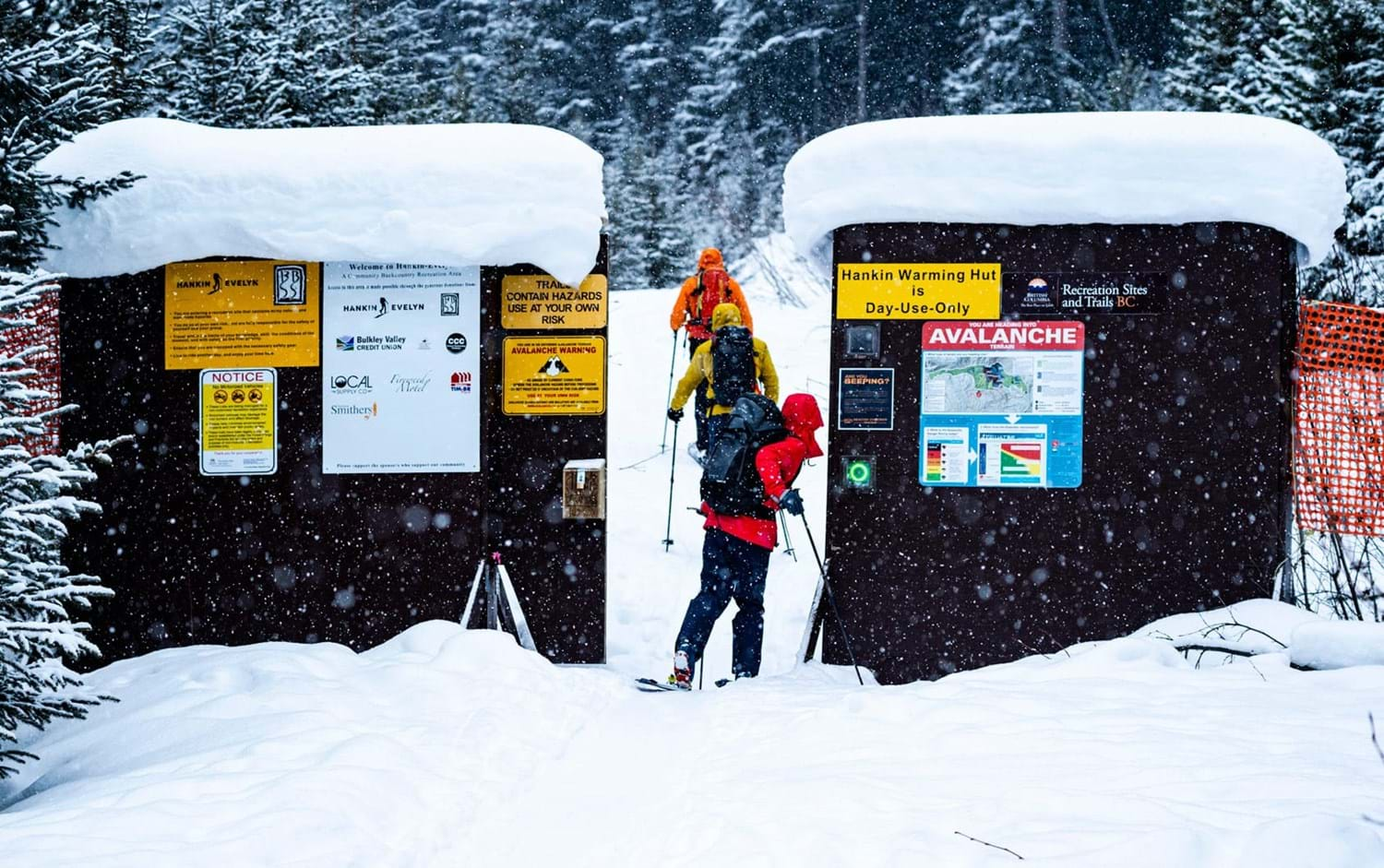 All the trees are hand fell to make sure we do as little impact on the environment as possible. That makes a big difference for the eco system, says Brian.
The Hankin project was all made possible because of countless hours of volunteer work and a passion of the local community and skiing. They raised and spent over one million CAD in funding and labour on the project that started in 2008. Every year they put in about 1000 hours in volunteer hours and over time the project has paid off.
Nowadays, about 4000 skiers visit Hankin Evelyn every year and it has been growing steady having guides and avalanche professionals doing courses in the area but Hankin is also attracting more and more ski touring tourists from both North America and Europe. It is all free; just a recommended donation to support the local community who look after it.
The main goal Brian had with Hankin was to get the local community more interested in backcountry skiing and that has been a great success. More and more locals get light weight touring equipment and get after it. When other parts of British Columbia get busier and busier, Smithers and northern BC in general, notice an increased population, often interested in skiing and other outdoor activities.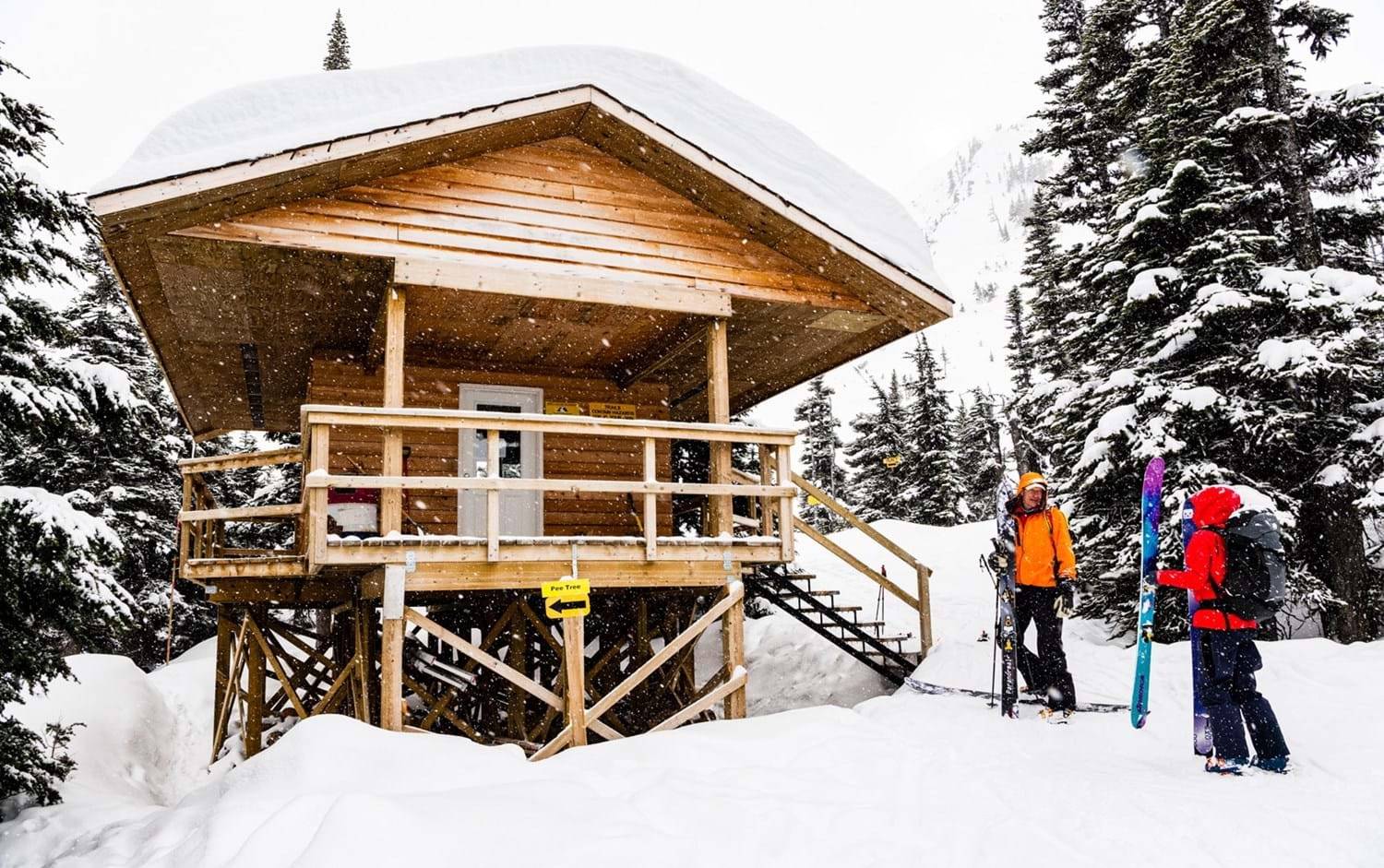 The snowfall becomes heavier as we approach a warming hut, which is a welcoming place for a break after another hour of ski touring through the trees. We cut some wood on the porch and get the stove going. Soon we have a nice fire warming us and we enjoy warm tea and a snack in the wooden hut.
We have amazing mountains and great terrain in the surrounding area of Smithers, but before the access was too difficult and if you want to do a big day out here, then it is nice with these warming huts.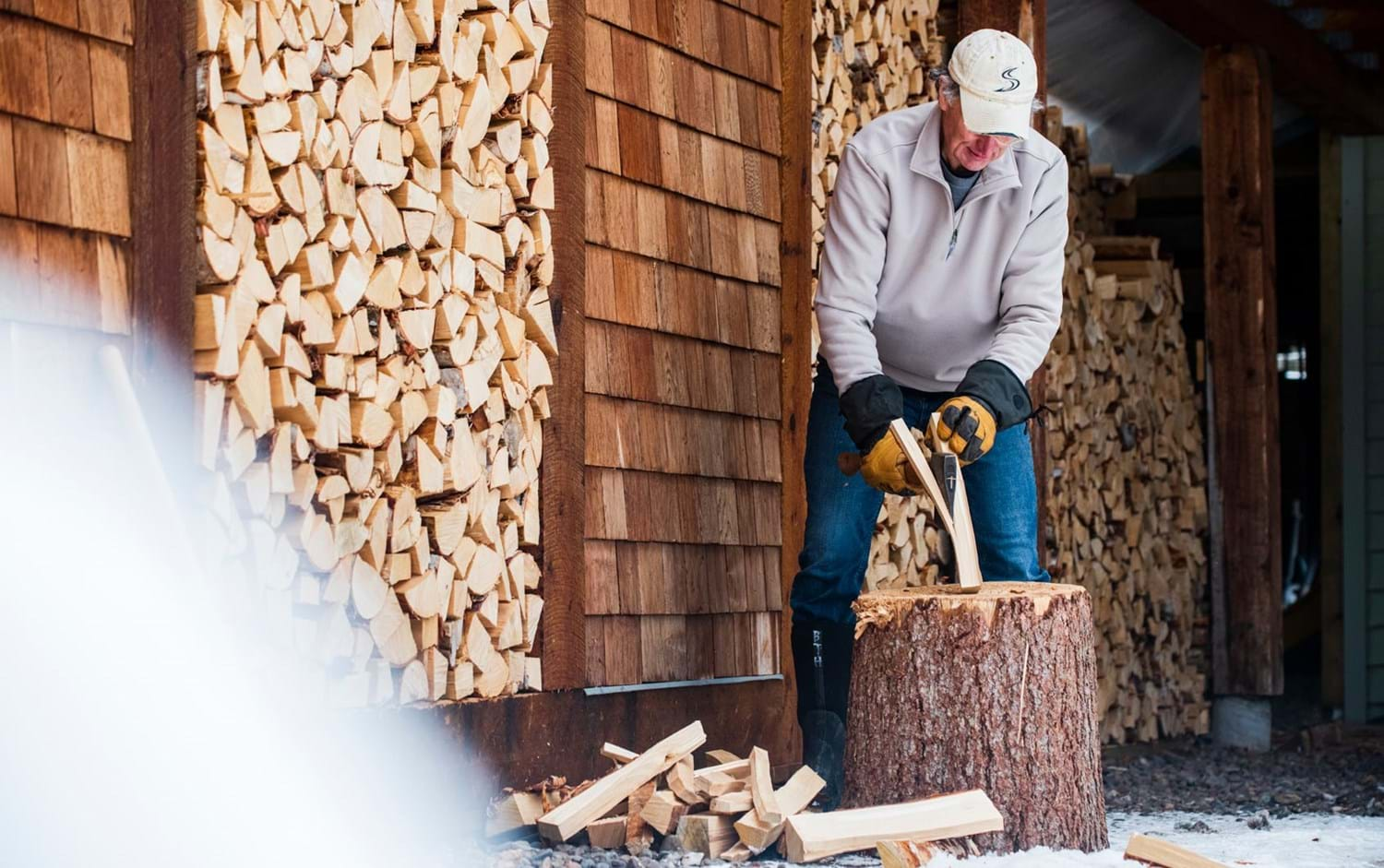 The cabin is warm and cosy and the conversations are interesting but the snow fall continues so after one hour we pack our bags and get after it. We have decided to change the plans due to the heavy snowfall and poor visibility. Instead of continuing to one of the alpine bowls above the cabin, we head for the trees directly.
It is surprisingly deep snow already and the skiing among the old growth is amazing. Brian says, it was a while ago the last substantial snowfall but with the snow overnight and during the day it has accumulated well so in places I can even feel face shots. Brian tells me to ski first, as the nice gentleman he is. I almost feel bad but he insists and tells me he skis too slow these days. Brian has been troubled by heart issues, went through four cardiac arrests and one open heart surgery. Some days he wakes up feeling worse and then he refrains from skiing or other activities, but when he feels well, he's out there on skis. Both uphill and downhill. For being 70 years old he is an amazing skier and on the uphill I could barely keep up to his pace. We follow run 4 towards the parking lot. It is one of the steeper cut runs and has some fun natural pillows along the way. It feels great to enjoy the reward after walking up before.
Down at the car we share a beer at the back of Brian's truck, while we take off the ski boots and pack up our gear. It is such a great feeling to enjoy a cold one after a ski tour and to celebrate a new friendship.
Brian Hall's tips to get started with ski touring:
1. Find compatible companions. People with the same risk tolerance and goals will make for happy trips.
2. Safety should always be number one. Start building knowledge and skills from the get go.
3. Take an avi course. You'll gain important knowledge and meet potential, like minded, ski partners.
4. Start out easy. Pick simple terrain and as your skills build you can advance to challenging then complex terrain.
5. Communicate. Talk lots, know your goals, look after each other. Discuss how to react/respond if events go sideways.
6. Pre trip planning. Get the weather and avi forecast. Research the terrain you will be visiting. Consider safety gear.
7. Ski to the level of the weakest link in your group. Be prepared to turn around if uncertain about any slope/exposure.
8. At the trailhead check everyones gear to make sure beacons work, nothing is forgotten, safety gear is in your pack.
9. Consider a couple of guided trips to help build your skills. Many areas offer guided day trips or week long trips.
10. Come home safely.
Facts about Hankin Evelyn
Smithers is in the heart of British Columbia but still considered located in the Northern BC. The town sits at Canada's Yellowhead Trans-Canada Highway about 1245 km north of Vancouver, which usually is a 13-hour drive. The easiest way to get there from Europe is by plane. Smithers airport has multiple air connections daily with Air Canada. The flight to/from Vancouver takes just under two hours. Stay at The Stork Nest in the middle of town if you want a simple, but warm lodging alternative for a very reasonable price. www.storknestinn.com If you prefer a hotel, check out Prestige Hudson Bay Lodge www.prestigehotelsandresorts.com.